Another day, another Trump campaign attempt to put one over on the American people. But really, if you think about it, they're trying to fool the whole world, because Twitter is not exclusive to the USA.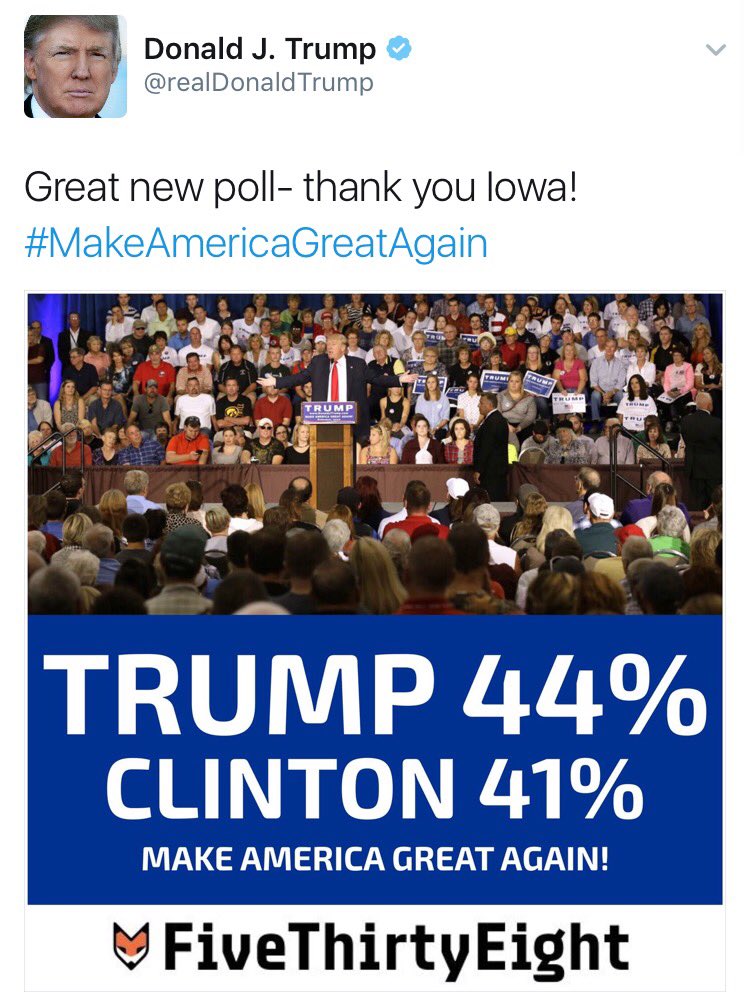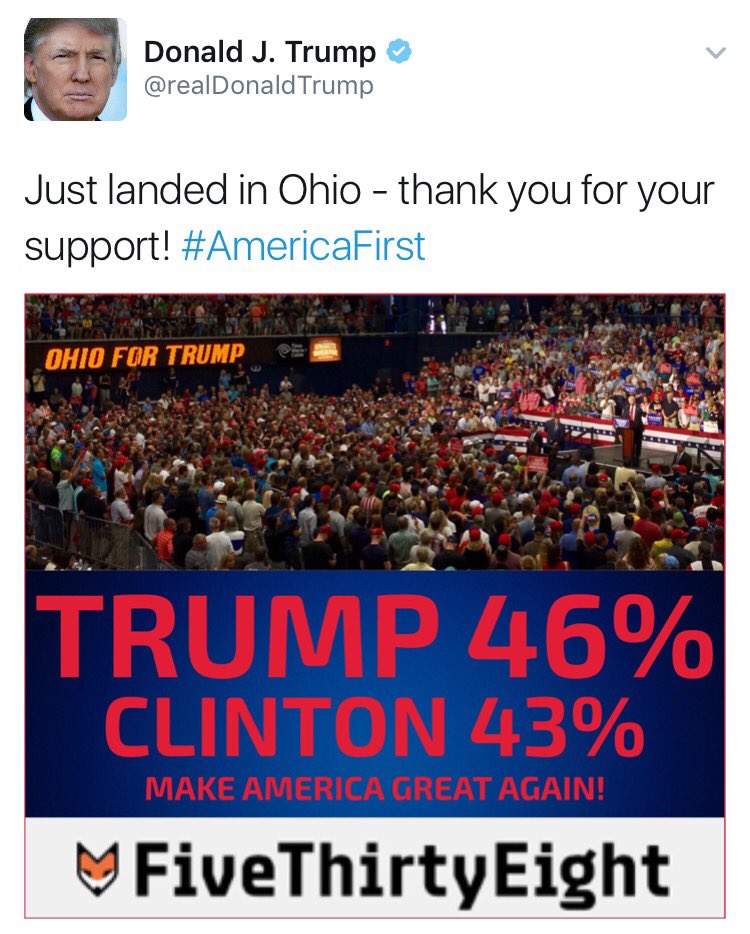 In a nutshell:  Monday morning, Donald Trump, using graphics created by his Campaign (or whoever does his social media posts, etc.) and citing @FiveThirtyEight as the polling group, took to Twitter and boldly thanked Iowa and Ohio for his leads in both states over Secretary Clinton.
Unfortunately there were a few glaring problems with his tweets.  Shocker of shocks!
Eagle-Eyed former tech director for Bernie Sanders, Zach Schneider, saw the postings and noticed the prominently displayed Five Thirty Eight Logo in both tweets, which was odd because Five Thirty Eight doesn't commission political "horse race" polls.  In fact, if Trump, and even worse, his Campaign Manager, FORMER POLLSTER Kellyanne Conway, actually understood what the numbers in the numerous polls they were reading meant, instead of claiming that Donald Trump was leading by 3% over Hillary Clinton, they'd realize that the polls show he's trailing in those states by 2%.  Hmmm
Once Schneider tweeted out Trump's use of a "fabricated poll attributed to @fivethirtyeight," it, of course, went viral.  Someone was smart enough (likely after a sternly worded note from Nate Silver's legal team at 538) to take it down from Trump's Twitter account, but Conway is still blatantly trumpeting the numbers out and attributing them to Five Thirty Eight.
You really can't make this kind of comedy up.  This is a man who's spending tens of millions of his own money, who's supposedly hired "the best" to help get him elected to the highest office in the land, and they make mistakes like this nearly every day!  They make the Keystone Kops (fictional comedic incompetent cops) look organized!
Are you on Facebook?  If you are interested in blog follow ups, free or discounted stuff I find, things that make me wonder, scream like a maniac, laugh, or yell in frustration, join the nearly 2,700 people who find me engaging or amusing at the page dedicated to this blog: https://www.facebook.com/extremeblondemoments